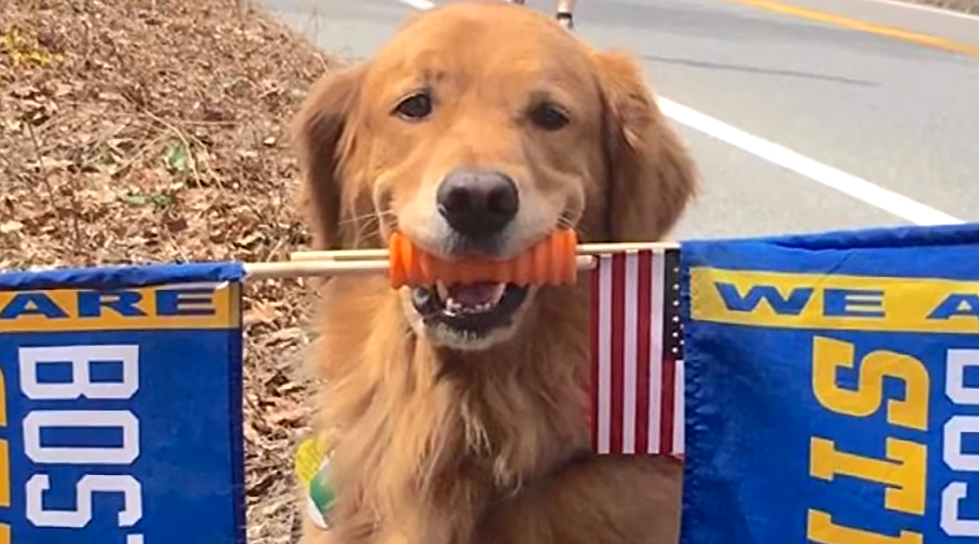 "Spencer" The Boston Strong Dog Returned For Today's Marathon
Credit: Inside Edition YouTube
One of the most heartwarming moments of last year's Boston Marathon featured a Golden Retriever cheering runners. This year, Spencer has returned.
The 123rd annual Boston Marathon was held today, with celebrities such as former New England Patriots linebacker Tedy Bruschi, seven time NASCAR champion Jimmie Johnson, and NFL player Andrew East making the trek. However, one of the most popular sights was once again a very supportive golden retriever.
Last year, Spencer garnered numerous headlines as he stood on the side of the road in his yellow raincoat, carrying two flags in his mouth while athletes ran by him. His support was welcomed by runners who despite rigid training, reportedly shouted their love for the pooch.
According to NECN, Spencer's owner, Rich Powers, said he and the the dog would to the route this year. Marathon Monday's weather certainly wasn't ideal, but Powers said it is much better than last year's conditions.