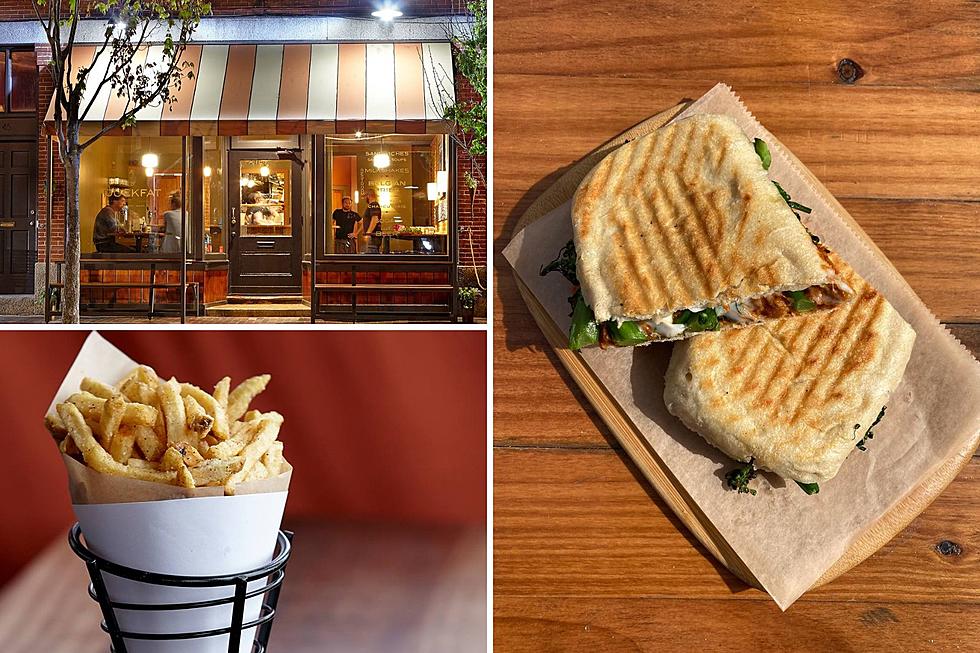 The Best Sandwich in Maine Can Be Found at Portland Fry Shack
Duckfat via Facebook
An iconic upscale fry shop in Portland is getting some serious national praise. However, this time it's not for their special spuds.
The popular foodie website Love Food recently posted an article about the best sandwich from each state. While you might think Maine's would be some type of lobster roll, Love Food went in an entirely different direction. The site chose the incredibly delicious Broccolini sandwich from Portland's Duckfat Restaurant. The East End restaurant has been serving up delicious food for nearly two decades, including this masterful delight.
This pressed sandwich features delicious raclette, locally made goat cheese, homemade romesco sauce, and broccolini, which gives it a fresh bite. This sandwich gives a whole new meaning to a grilled cheese.
Here is a little of what Love Food had to say about Duckfat and its amazing Broccolini sandwich.
Customers return here time and again for the exceptional duck-fat-fried Belgian fries and delicious panini, including veggie favorite the broccolini, which oozes with Jasper Hill raclette, locally made goats' cheese, and romesco. It's far more indulgent than its name suggests.
Just imagine how good this sandwich must go with Duckfat's amazing Belgian fries. What makes it a "Belgian Fry?" It's in the way Duckfat prepares the potato. The spuds are hand-punched and then twice fried in duck fat to perfection. This leaves the fry extra crunchy and extremely succulent. It also always leaves the customer wanting more.
Congrats to one of Portland's finest foodie spots. This is very deserving attention that is exciting to see.
Duckfat joins a list of presitigious sandwich shops from around the nation on this list that is sure to make any reader very hungry. You can see the rest of the list here.
20 Greater Portland, Maine, Restaurants That Have Been Featured on National Television Shows
Here's a list of 20 prominent Greater Portland, Maine restaurants that have been featured on national television shows. This is a great representation of the region's incredible food scene.
19 of Portland's Oldest Bars and Restaurants That Have Stood The Test of Time
Before Portland, Maine become a trendy foodie town, there were still dozens of incredible restaurants that laid the foundation for what the city is today. Many have closed over the years but a handful have stood the test of time and continue to thrive today.