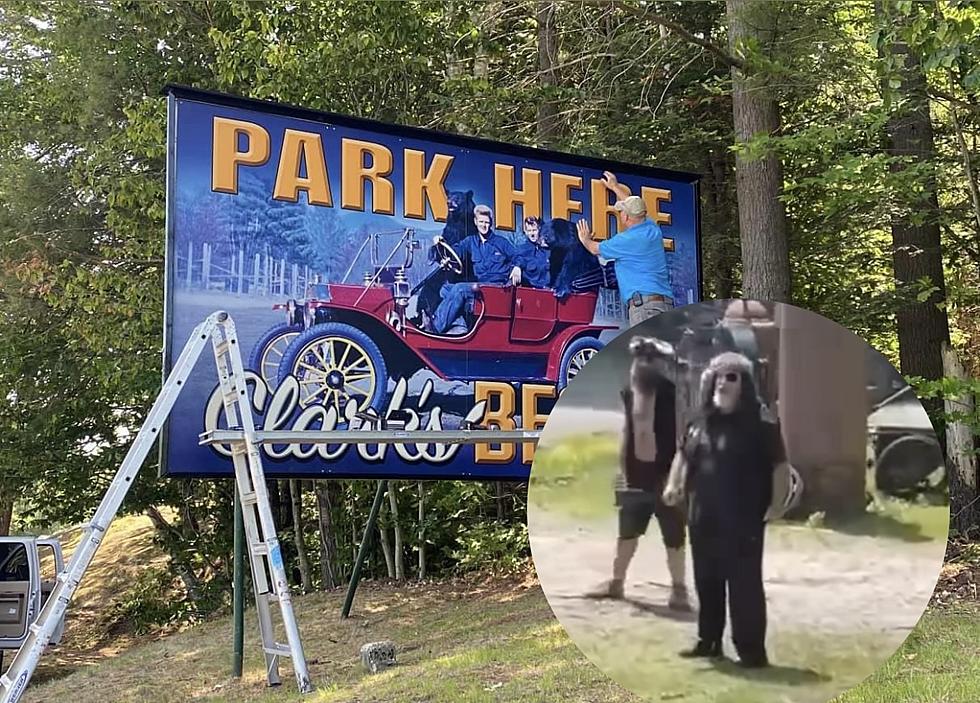 WWE Superstar Goes Undercover to Scare People as 'Wolfman' at Clark's Trading Post in New Hampshire
Photo 1: Clarks Trading Post via Facebook Photo 2: Mick Foley via Facebook
If one of the "Wolfmen" at Clark's Trading Post seemed just a little scarier than usual lately, there's good reason: he's also battled Stone Cold Steve Austin, The Rock, and The Undertaker.
WWE Hall of Famer Mick Foley revealed that he was an "Honorary Wolfman" at Clark's this month, a new addition to his famed "Faces of Foley" that also includes the characters Cactus Jack, Dude Love, and Mankind (the latter of whom won his first WWE Championship on a snowy night in Worcester back in 1999).
Foley is famous for his love of Jefferson's Santa's Village, a must for nostalgia-seekers before a new ride replaces a classic in 2024. Luckily, for traditionalists like Foley, Clark's is going the other way, throwing things back with a new addition that harkens back to its roots.
On Facebook, Foley wrote:
"A great time was had by all when I was able to participate in the 50 year tradition of chasing trains as an honorary "Wolfman" at Clarks Trading Post.  I have known the Clark family for over 25 years, so I jumped at the opportunity to join Wolfman Vern on our quest to protect his valuable cachet of Unobtanium. So, every hour on the half-hour, I would jump out of my secret Unobtanium mine to chastise a genuine steam-train full of passengers. If you get the chance to travel up to the White Mountains of New Hampshire, this family owned and operated attraction is a must see!"
Foley also noted that his son, Mickey, is currently working at Clark's, and added a video of the experience – noting that he twice defeated The Rock (whose first title belt may still be at the bottom of a famous New Hampshire river.)
WWE Superstars From New England
Some of the biggest local talents who went on to have success in the squared circle.
Top 10 Ranked Canobie Lake Park Attractions
Here are some of the best attractions that you can go on at Canobie Lake Park, in my opinion.