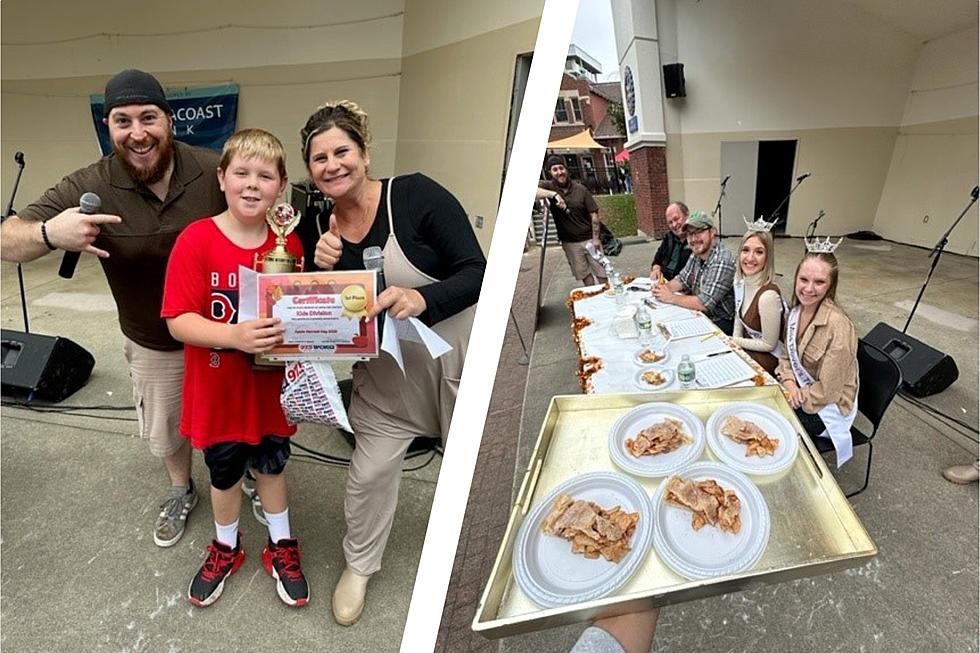 Dover, New Hampshire, Apple Pie Contest is in History Books: Winners Delight Crowd
Townsquare Media
The forecast said 90% rain on Saturday, but as the day progressed, that number kept decreasing as the anticipation of the crowd increased.  Thousands of people showed up on a cloudy day to celebrate Dover, New Hampshire, and the 39th Annual Apple Harvest Day.
One by one, the proud bakers with their hot apple pies, fresh out of the oven, brought their creations to the WOKQ table for judging.
The air was wafting with the sweet smells of apples, cinnamon, and sugar.
Some entrants were regulars, but others were first-timers in the most famous Apple Harvest Day event.
People came from all over the region, but the winners turned out to be right from Dover.
Judges included Dover, NH, Mayor Robert Carrier, Jonathan Nichols (Director of the Woodman Museum, veteran, and active community volunteer), Anna Sargent (Miss Dover), and Jasmine Blais (Miss Teen Dover).
There were two divisions of the WOKQ Apple Pie Contest, adult and youth (16 years of age and under).
The young bakers were extraordinary, and so passionate about baking.  Whether they won or not, these kids are all winners by doing what they love.
Here are the results:
Adults
3rd Place - Lance Powers of Rochester, NH
2nd Place - Marcella Airey of Somersworth, NH (1st place in 2022)
1st Place - Heather Cronin of Dover, NH
Youth
3rd Place - Briella Yergeau of Rochester, NH
2nd Place - Kingston Yergeau of Rochester, NH
1st Place - Paxton Toupin of Dover, NH (1st place in 2022 also)
Heather Cronin's pie was a delicious combination of apples, caramel, cinnamon, and other delicious, gooey ingredients with a beautiful crust with leaf cutouts.
When Kira of Kira & Logan in the Morning asked young Paxton his secret, since he's won two consecutive years, he quickly said, "I can't tell you. It's a secret!"
Such is the life of an award-winning baker.  See you next year!
These 5 New England Spots Were Featured on Yelp's 'Top 100 US Restaurants 2023' List
Gallery Credit: Megan
Look Inside the Most Expensive New England Homes on the Market
These are the most expensive homes on the market in each New England state as of August 1, 2023.
Gallery Credit: Megan