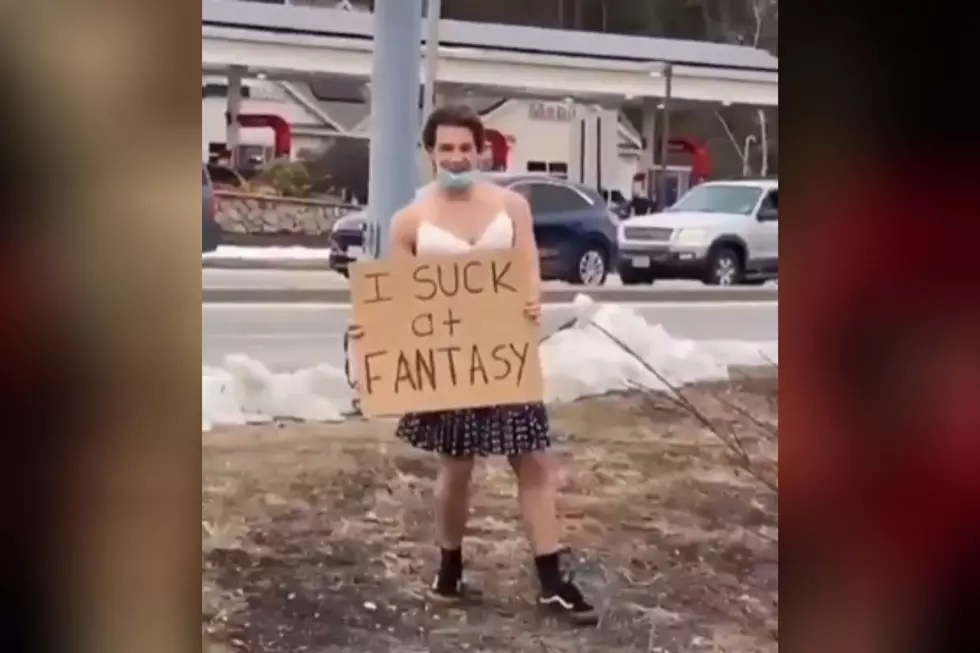 Did You See This Fantasy Football Punishment at an NH Mall?
BarstoolUNH via Instagram
People play fantasy football for a ton of different reasons -- some friends put money on the line, some want the trophy, others want bragging rights, and then there's the occasional few who try and humiliate each other.
While my friends and I have always TALKED about putting some kind of punishment on the line for finishing in last place, we've never actually implemented anything. This year, we actually played for one of those customized title belts that you may or may not see advertised on your socials during, well, fantasy football season.
This one group of friends, though. They did what we haven't yet -- they pulled the trigger on a fantasy football punishment for finishing in last place. Now, from what I can tell based on the video I came across on the BarstoolUNH Instagram page, a group of friends in New Hampshire agreed that the person with the worst fantasy football record at the end of the season would have to parade around in public in a crop top and skirt while holding a sign that reads "I suck at fantasy."
Unfortunately, for (based on some Instagram investigating) one of the guys in the friend group named Colby, the luck of the pigskin wasn't in his corner this season and he had the worst record. And to his credit, he took his punishment in stride and actually executed it.
Of course, in a situation like this, the comments section is phenomenal (and also really, really polite, actually.)
kathleenflarria: "I saw him. It was so cold! What a good sport."
jacquelineklombers (who appears to have been Colby's orientation leader at college): "That's MY orientee!"
peregrinestryker: "I saw this kid!" LOL good job Salem NH!"
And even Colby himself left a comment: "I pulled off that crop top and nobody can tell me different."
In all seriousness, in a time in the world where so much intense, emotionally and mentally draining stuff is happening, good on Colby for being a good sport and stylin' and profilin' what his Mama gave him out front of The Mall at Rockingham Park in Salem on a chilly day, and even making a couple bucks in the process!
How much do you want to bet he's already doing his research for next year's fantasy football team?
5 New England Sports Superstars of All Time