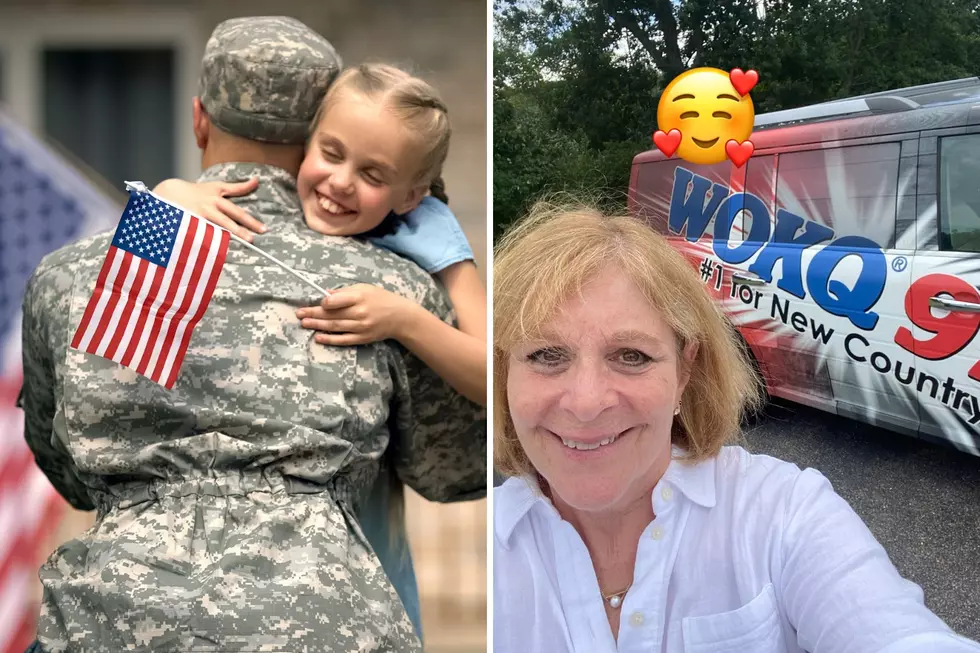 Hollis, NH, Woman is Back at It Collecting Holiday Cards for Our Troops
Canva, Dr. Laura Landerman Garber
Dr. Laura Landerman-Garber is an incredible and hilarious lady who started a non-profit organization 19 years ago. She sat down to have Thanksgiving dinner with her family, but before anyone was allowed to eat, they were told to write out a holiday card to a military hero who wasn't able to spend the holiday with their family. She called it her family's "ticket to turkey". In that moment, Holiday Cards for Our Military Challenge was born.
This challenge has expanded WAY beyond New Hampshire, and over the years, hundreds of thousands of holiday cards have been delivered to our brave warriors.
Laura has spread the good word on Live with Kelly and Ryan, CBS This Morning, The View (where Whoopi Goldberg told her she was kind of funny, kind of weird), and our morning show on WOKQ.
For the past two years, WOKQ has had the opportunity to partner with Laura and supplement her card collecting efforts, and we are so pleased to announce that we are going for year number three.
Last year, Holiday Cards for our Military Challenge collected 138,000, so can you guess what the goal is this year? 138,001 #EveryCardCounts
Here's how it works!
Who? ANYONE can write a card! If you are a kindergarten teacher, you can explain that those who serve our country don't always get to spend holidays with their families. What does that mean to them? Express gratitude by writing cards! Have an office job? Make it a company-wide challenge to see how many cards you can collect as a team. Work at coffee shop? Have a drop box at the counter for customers to get involved! Have fun with it!
What? You can use a holiday card, blank note card, thank you card, or piece of paper folded in half. There's no need to use an envelope, but if you do, DO NOT SEAL! All cards are proofread.
Cards should be in the following format:
 Dear Warrior...
Happy Holidays!
Include your favorite holiday traditions
Share some "hometown" news
Feel free to include your school, business name, organization, etc. If you are connected to the military in any way, feel free to share!
Mail your cards to PO Box 103 Hollis, NH 030349, or drop off your card at any of the various dropbox locations (scroll down to the bottom to see the list of locations). Starting Monday, 8/15/2022, we will have a dropbox outside our WOKQ Studios that you can use if that's most convenient for you. We are located at 292 Middle Rd. in Dover!
Let's help Laura reach her goal this year, and show some #gratitude to the brave men and women who are fighting for our freedoms.
PLEASE GET CARDS IN BY NOVEMBER 18, 2022!
Looking to Adopt a Four-Legged Bestie? Visit These 14 New Hampshire Animal Shelters
These Are the 20 Least Populated New Hampshire Towns
What names do you recognize?