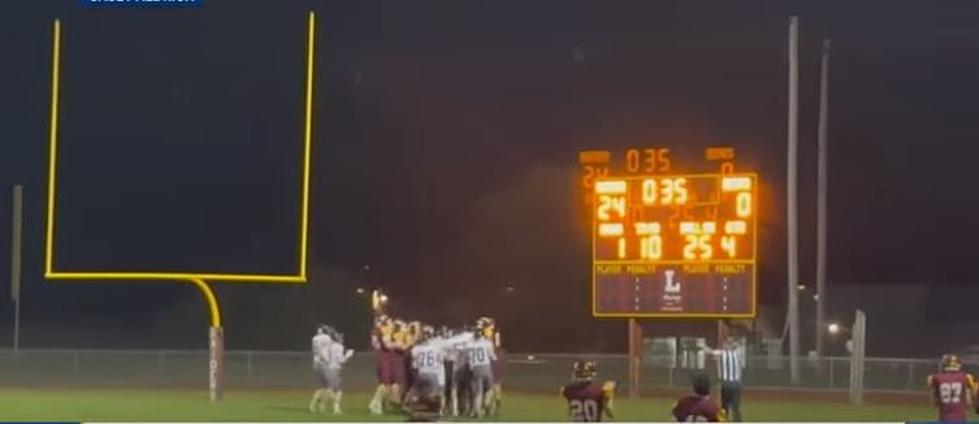 Incredible Moment, Bigger Than Sports, in Lebanon-Hanover, New Hampshire, Football Game
WMUR-TV, via Youtube
High school sports are so critical to the development of "children". High school sports teach teenage kids how to be a part of a team, when to lead and follow, and so much more.
The term "bigger than sports" is often used for stories or moments in and around athletics that provide more meaningful or impactful messages than a normal sports game can provide, like pride night, indigenous night, and other cultural acknowledgments and support at professional games.
One of those "bigger than sports" stories took place last week in New Hampshire during a Hanover vs Lebanon Junior Varsity football game.
A player on the Hanover team with special needs was waiting for his moment to get into a game, and the coach knew it was time to do so.
After the Hanover coach spoke with the officials, Lebanon coaches, and players, it was time for the Hanover high schooler to get his chance.
And he took it...TO THE HOUSE!
The player with special needs on the Hanover Junior Varsity football team took a handoff and ran 70 yards for a touchdown.
Check out the full video below:
The best, and I mean BEST part of this story is the fact that both teams were okay with it, both teams supported it, and both teams celebrated in the end zone.
This is a "bigger than sports" moment. It showed phenomenal coaching, compassion, and acceptance from all of the players on both teams.
According to a WMUR article, "one official said the smile from that young man (who scored) is something he will never forget."
See Inside Jimmy Buffett's Staggering $6.9 Million Palm Beach Mansion
Jimmy Buffett
sure knew how to live the good life. His former 3-bedroom, 3.5-bathroom, 4,039-square-foot mansion in the exclusive Eden Properties neighborhood in Palm Beach is exactly the kind of laid-back home you'd expect the superstar to relax in when he was off the road.
The interior centers around a combined dining and living room with eye-popping vaulted ceilings topped off by skylights, while a massive wall of mahogany-framed sliding glass doors looks out over the pool area outside. The kitchen is decorated in gleaming white, and each of the bedrooms has its own attached bathroom, while the massive master suite also has sliding glass doors that open to both the pool and a bathroom that looks like it belongs in a high-end resort.
The exterior of the house is just as striking, centered around a sparkling pool of deep cobalt blue. The pool area features plenty of lounging, and a loggia just outside the living room offers open-air dining. There are lush gardens, brick paths that walk through elaborate pergolas and a fountain. The property also features a two-car garage with a guest suite overhead, and it offers deeded access to the beach nearby.
Gallery Credit: Sterling Whitaker
2023 People's Choice Country Awards Red Carpet Pictures
The best dressed from the 2023
People's Choice Country Awards
include several bold fashion choices and plenty of mid-summer crop tops. See pictures from the red carpet at the Grand Ole Opry in Nashville, taken before Thursday night's (Sept. 28) live broadcast.
Gallery Credit: Billy Dukes