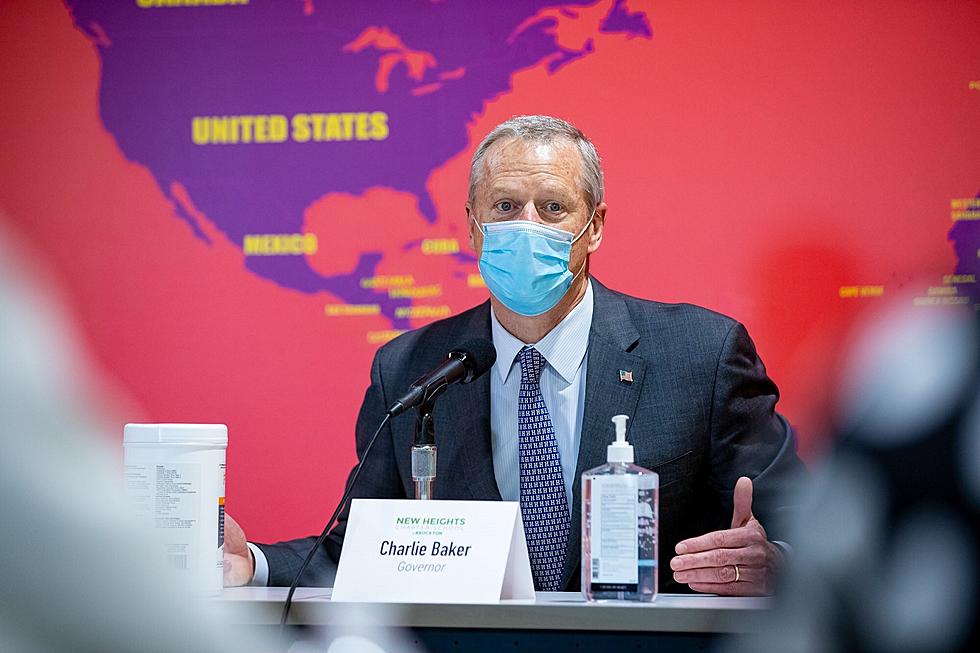 Massachusetts Issues COVID-19 Mask Advisory
Gov. Charlie Baker wearing a mask in May (@MassGovernor via Twitter)
As more information comes out about the COVID-19 Delta variant, Massachusetts officials issued an update about wearing masks in the Bay State on Friday.
The new policy is nearly in line with the CDC's revised guidance and advises fully vaccinated individuals to "wear a mask or face covering when indoors outside of your home, if you have a weakened immune system, are at increased risk for COVID-19 or if someone in your household is at increased risk or unvaccinated."
Baker said that masking is still required on public and private transportation systems, in healthcare facilities and in other settings hosting vulnerable populations, such as congregate care settings.
The advisory takes effect immediately.
Maine Gov. Janet Mills issued a similar "suggestion" but applied it specifically to areas the CDC considers to be "an area of substantial or high transmission."
No new mask recommendations are forthcoming from Gov. Chris Sununu because there is no state of emergency in effect and he is urging people to get vaccinated.
Democratic leaders in the state are upset by Sununu's reluctance to incentivize people to get vaccinated. He spoke out against President Joe Biden's plan to give Americans $100 to get vaccinated if they have not done so already.
"Chris Sununu has absolutely no plan to get Granite Staters vaccinated as the Delta variant spreads. The governor's criticism of President Biden's plan is a transparent and pathetic attempt to score political points with Mitch McConnell and Washington Republicans," NH Democratic Party Chair Ray Buckley.
"Cases are rising in New Hampshire because Chris Sununu wasted $400,000 in taxpayer dollars to promote himself in an ad campaign that has completely and utterly failed to get more Granite Staters vaccinated."
Sununu told WMUR that President Biden's plan to pay a $100 vaccine incentive "an unserious proposal to a very serious issue that we're working." He said it's "an individual choice" and that having the vaccine easily available is key.
Vaccinations in New Hampshire have leveled off with 58% of the population fully vaccinated as of Thursday on the state COVID-19 dashboard.
In a CDC presentation obtained by the Washington Post the Delta variant is almost something different than COVID-19, spreads as easily as chickenpox and can cause more severe illness in both vaccinated and unvaccinated individuals.
Officials at the hospitals in Portsmouth and Dover report seeing an uptick in hospitalizations.
Contact reporter Dan Alexander at Dan.Alexander@townsquaremedia.com or via Twitter @DanAlexanderNH
50 Most Popular Chain Restaurants in America
YouGov investigated the most popular dining brands in the country, and Stacker compiled the list to give readers context on the findings. Read on to look through America's vast and divergent variety of restaurants—maybe you'll even find a favorite or two.