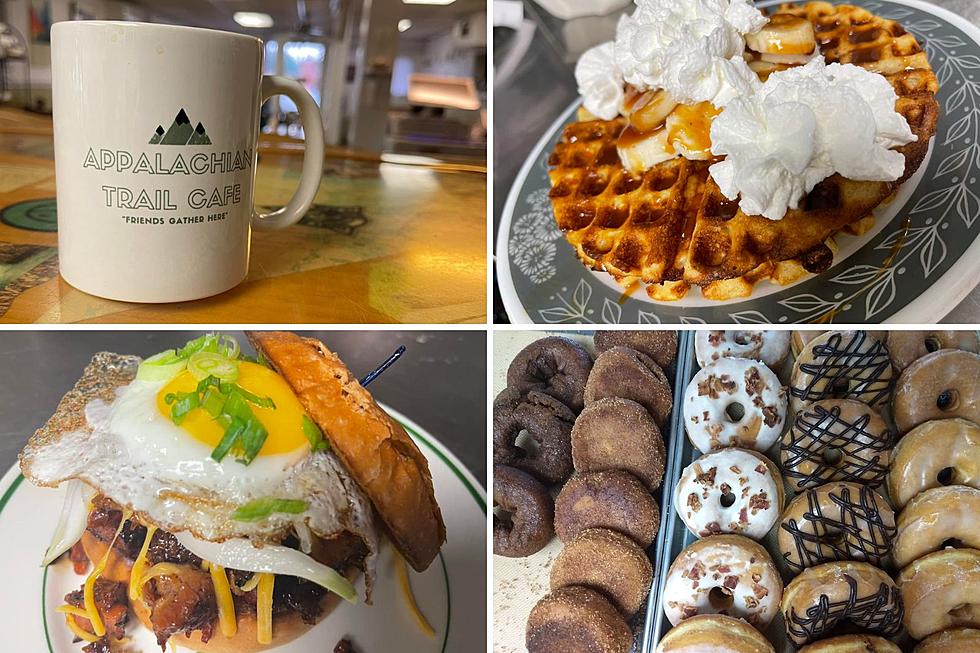 Northern Maine Cafe Just One of Many Restaurants That's Worth the Trip
Appalachian Trail Cafe via Facebook
One of the great things about Maine is how reliable the food scene is. It doesn't matter where you are, as there is likely a tasty destination close by. Having lived in places where this isn't the case makes me love our state even more.
This comes in handy when going on my many instate travels, especially in a certain remote neck of the woods.
My favorite spot in Maine is Baxter State Park. It's just everything I love about Maine. It's also in the middle of nowhere. The closest town to Baxter's South Gate is Millinocket, an old mill town with a population of just over 4,000. However, in that town is an absolute oasis for locals, tourists, and Appalachian Trail hikers. I'm talking about the Appalachian Trail Cafe.
After spending a weekend hiking, there is nothing better than a huge high-caloric breakfast feast. This is extra special if you had just spent two days eating mostly CLIF bars and trail mix, as was the case for me just a few years back.
I remember driving back into town and seeing if there were any options available for this mass calorie consumption. And there it was, the Appalachian Trail Cafe, shining like a beacon on a lighthouse.
My hiking buddies and I made our way into the cafe and (luckily) found a seat. The place was hopping with folks from across the country, many being Appalachian Trail hikers who had just finished their epic trip.
We put our order in, which included a few of their homemade baked goods. It was a great way to start the meal. And then the well-portioned meals arrived just in time for us to devour.
The food was delicious. There is nothing like eating when extremely hungry, and when that meal is top-notch, its paradise.
Making the meal even better was the witty and personable server. She was such a perfect fit to that joint. Good service is always appreciated. Great service is an added luxury.
The Appalachian Trail Cafe might not exactly be an easy place to get to, but its is unquestionably well worth the trip, and a place that you guys told us is one of the best in Maine to travel to.
Below is a list of many of those restaurants that were suggested to us. They vary in size, concept, and location. However, they are all true Maine originals.
Hope you're hungry.
Look: 50 Maine Restaurants That are Worth the Trip
Thanks to our great listeners we were able to compile a list of many of Maine's great "worht the trip" restaurants, cafes, pubs, and bakeries.
These great spots can be found across the state and waiting for you to give them a try.
How many have you been to?
Gallery Credit: Chris Sedenka
22 Maine Sports Bars & Pubs to Enjoy a Patriots Game
We asked, and you answered. Here are some of the best places to catch the Patriots and the rest of the NFL on football weekends. This list was compiled from crowdsourcing on our social media.
Gallery Credit: Chris Sedenka