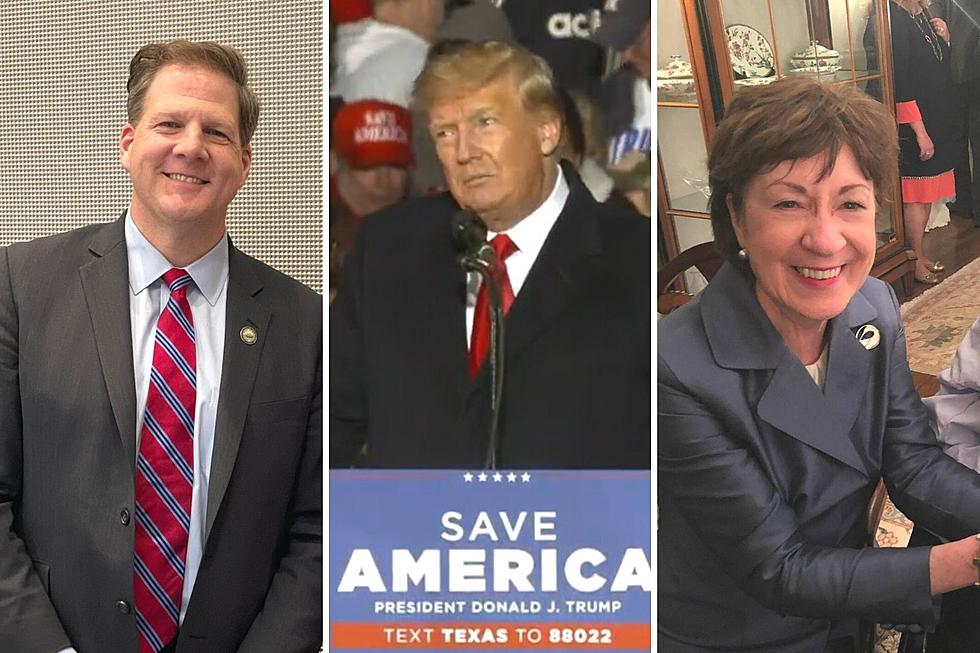 Sununu, Collins Against Possible Trump Jan. 6 Pardons
Gov.Chris Sununu (Gov. Chris Sununu) Donald Trump (C-Span) Sen. Susan Collins (Sen. Susan Collins)
New Hampshire Gov. Chris Sununu and Maine Sen. Susan Collins both distanced themselves from former President Donald Trump during their respective appearances on the Sunday morning talk shows.
Their comments come after Trump said at a rally in Texas on Saturday night that if he were re-elected president in 2024, he would consider pardons for those charged in the January 6 riot at the Capitol.
"If I run, and if I win, we will treat those people from Jan. 6 fairly," Trump said. "And if it requires pardons, we will give them pardons because they are being treated so unfairly."
During CNN's State of the Union, Sununu said those involved in the resurrection or "burning cities in Antifa in 2020" need to be held accountable and not be pardoned.
"Look, the folks that were part of the riots and, frankly, the assault on the U.S. Capitol have to be held accountable. There's a rule of law. I don't care whether you were part of the burning -- burning cities in Antifa in 2020, you were storming the Capitol in 2021," Sununu said.
When asked point blank if those charged should be pardoned Sununu responded "oh my goodness no."
The governor also doesn't want Trump's help when asked if he would like to have Trump campaign with him during his re-election campaign.
"I don't need anyone to campaign with me," Sununu said.
Sununu is in Washington for the National Governor's Association meeting. He will be part of a meeting with President Joe Biden on Monday before returning to New Hampshire.
No Support for Trump from Collins
Collins on ABC's This Week said Trump should not have said anything about pardons, and likely wouldn't support a run for president on 2024.
"It's not likely given the many other qualified candidates that we have that have expressed interest in running. So it's very unlikely," Collins said.
Collins also talked about her work on a bipartisan committee to reform the Electoral College, that would change the role of the Vice President.
"I'm hopeful that we can come up with a bipartisan bill that will make very clear that the vice president's role is simply ministerial, that he has no ability to halt the count and that we'll raise the threshold from one House member, one senator, for triggering a challenge to a vote count submitted by the states," Collins said.
Hours after the interviews, Trump spokesman Liz Harrington released a statement bashing Collins and the committee.
"If the Vice President (Mike Pence) has 'absolultely no right' to change the presidential election results in the Senate, despite fraud and many other irregularities, how come the Democrats and RINO Republicans, like Wacky Susan Collins, are desperately trying to pass legislation that will not allow the Vice President to change the results of the election," Trump said.
Contact reporter Dan Alexander at Dan.Alexander@townsquaremedia.com or via Twitter @DanAlexanderNH
Listener Images from the Blizzard of 2022
The Blizzard of 2022 dumped over a foot of snow on the Seacoast and southern Maine. Here's pictures of the nor'easter from our listeners.