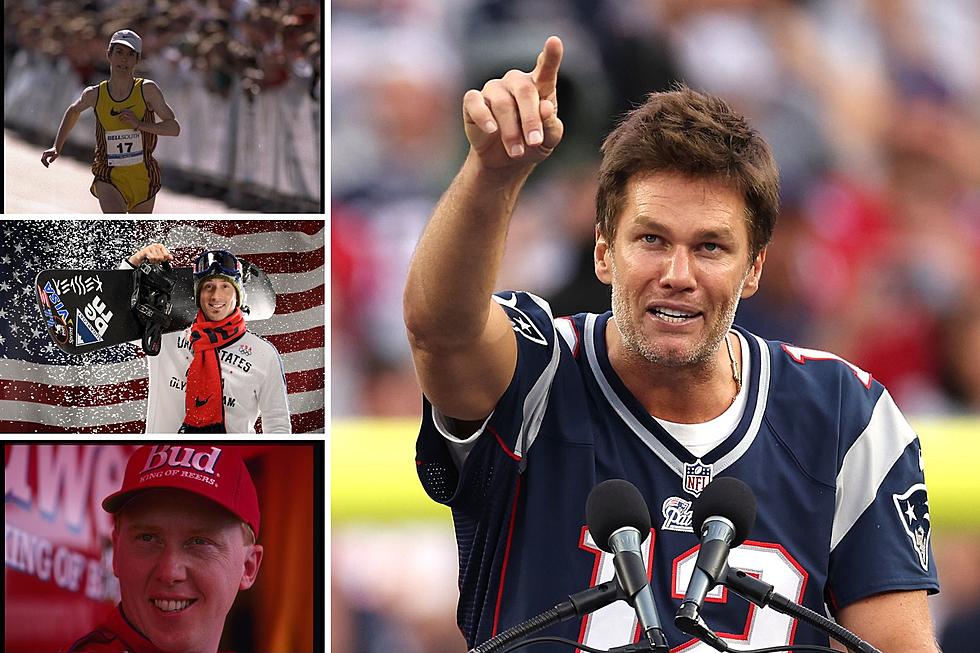 The Tom Bradys of Maine: Let's Dive Into the State's Best-Ever Athletes
Getty Images
New England Patriot legend Tom Brady was back at Gillette Stadium for the team's opener. The GOAT was in the house to be honored at halftime. It was also announced that he will be inducted into the Patriots Hall of Fame in June of 2024.
Brady will easily go down in history as the greatest quarterback of all time. Hell, he should go down as the greatest player of all time. Tom will finish with seven championships, five Super Bowl MVPs, three League MVPS, 15 pro bowl selections and about 178 held records. We are undoubtedly lucky for having witnessed his greatness.
With that being said, it got me thinking about the whole GOAT conversation, and who in our great state should be worthy of that conversation. Now, I'm not looking for Tom Brady-like greatness, but athletes who we are proud to call Mainers.
While Maine isn't exactly known for producing a wealth of top-level athletes, it doesn't mean there aren't exceptions.
Here is a list of Maine's top GOAT athletes in honor our guy, Tom.
Joan Benoit Samuelson - 1984 Gold Medal - Marathon 
It's impossible not to have the most popular American female distance runner ever on the list. Samuelson is most known for her amazing gold medal marathon performance at the 1984 Summer Olympics in Los Angeles. It was the inaugural event for the women that year, and Samuelson's time of 2:24:52 wouldn't be broken for decades. I could write a book on her accomplishments and positive impact to the Maine running community.
Seth Wescott - 2006, 2010 Olympic Gold Medal - Snowboard Cross
Originally born in North Carolina, Seth grew up in Farmington and started snowboarding at 10 years old. He would go on to be a three-time Olympian, bringing home the top prize twice. Wescott also was the 2005 World Champion and numerous World Cup and X Games medals.
Cindy Blodgett - Basketball God - University of Maine & WNBA 
The greatest scorer these eyes have ever seen, Blodgett absolutely took the Maine basketball world by storm at Lawrence High School, then UMaine. She won four state titles and made four NCAA trips. Blodgett was also just the second women ever to lead the NCAA in scoring all four years. Her accolades are simply incredible.
She would go on to be drafted into the WNBA, playing a few years before going into coaching.
Billy Swift - 20-game Winner & Silver Medalist - MLB & Team USA
The Portland native had a tremendous career that started with four consecutive College World Series trips at the University of Maine. Swift would go on to pitch for Team USA in 1984, winning a silver medal. He would have a 13-year MLB career, which included a second-place finish in the Cy Young in 1993, when he won 21 games for the San Francisco Giants.
Eric Weinrich - 20-Year Pro Career & Olympian - NHL & Team USA 
The Virginia native grew up in Gardner before attending the University of Maine. Weinrich would earn second team All-American status in Orono before heading off to the NHL for an impressive 17 years. He would finish as a player/coach for the Portland Pirates. He also represented Team USA at countless world championships and the 1988 Winter Olympics.
Ricky Craven - NASCAR Cup Race Winner
The Newburgh native quickly rolled through the lower ranks of NASCAR before having a very respectable career in the top level. Craven was a two-time race winner and finished with 41 top 10's over an 11-year career. He became one of the leading NASCAR TV analysts after retirement.
Cooper Flagg - High School Basketball Sensation 
Is it too early to have Cooper on this list? Nope. Not when ESPN and other recruiting services have you listed as the number one recruit in the nation. Schools like Duke, UConn, West Virginia, and many others have already offered full scholarships to the youngster. The sky seems to be the limit for Maine's most prized recruit ever.
There are many other names that could be mentioned, including Mike Bordick, Dick MacPherson, Brian Dumoulin, John Winkin, and some guys from 150 years ago. However, these seven are a legitimate representation of what being a champion from Maine is all about.
Now, start the debate...and watch more Cooper Flagg highlights.
25 Celebrities Who Have Owned Homes In Maine
From Kittery to Islesboro, some of Hollywood's biggest names have owned homes in Maine. We explore the who and where.
Gallery Credit: Joey
7 Maine Pizza Places Barstool's Dave Portnoy Needs to Visit
Here are some Maine pizza places he should make the trip to check out if he hasn't already.
Gallery Credit: Krissy