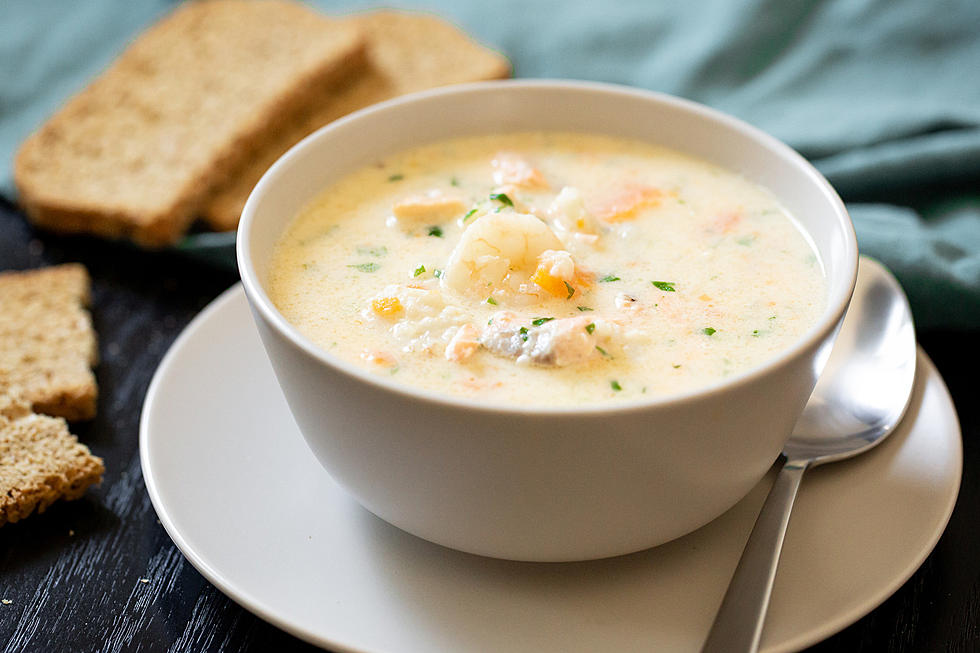 WOKQ Presents the 36th Annual Chowder Festival Back in Portsmouth, New Hampshire…and I'm Hosting
Getty Images
It's me, hi, I'm the host, it's me!
WHATS UP! It's Logan from 'Kira and Logan in the Morning' on 97.5 WOKQ. I will be hosting this year's 36TH ANNUAL 97.5 WOKQ CHOWDER FESTIVAL, sponsored by Avery Insurance.
The Chowder Fest, per usual, will take place in Prescott Park in downtown Portsmouth, New  Hampshire.
The event is planned for Saturday, June 3, 2023, with a backup rain date of Sunday, June 4.
What can you expect? I'm so glad you asked.
First and foremost, chowder. Lots of it. According to NH Magazine:
Sixteen of the Seacoast's most esteemed fishmongers plan to spill their sumptuous chowders into salivating mouths, all in hopes of taking home the revered "Golden Ladle." With two ladles up for grabs — the People's Choice Award and the Judge's Award — attendees get the chance to support their favorite chowder of the day, while chowder experts ever-so-carefully weigh the spices and seasonings.
That's right. You, the people, have the power to determine who has the best chowder!
Besides good eats, the second guarantee for the event is fun.
There will be kids' activities like a tie-dye station, oversized lawn games, Connect 4, corn hole, Jenga, and face painting.
The park will also be bumping some good, live, and local music with two performances. At 11am, Sneak Miles comes on the stage to get the festival rocking. At 1 pm, the Dwayne Haggins Trio will begin their set.
"We have a great concert series but those bands are primarily coming in from all over the country and maybe don't have Portsmouth roots, whereas the Chowder Fest is obviously a strictly-local event: mostly Portsmouth restaurants, some greater Portsmouth restaurants, and they're driving this event and being in the Park with other people who're interested in tasting what they have or maybe are already huge fans," said Tyler Goodwin, board member of the Prescott Park Arts Festival and co-chair of the organization's Young Professionals Group, who helped plan the event. "It's a hyper-local event that allows us to celebrate the picturesque nature of the park along with the great restaurants we have in the area."
Tickets for the event are only $20, and can be purchased here.
See you at the 36TH ANNUAL 97.5 WOKQ CHOWDER FESTIVAL, sponsored by Avery Insurance, at Prescott Park my friends!
The 21 Best Seafood Restaurants in New Hampshire
We reached out to New Hampshire residents on Facebook to ask their favorite seafood joints. These are the ones that came up.
4 Places To Get Great Maine Seafood Tourists Don't Know About