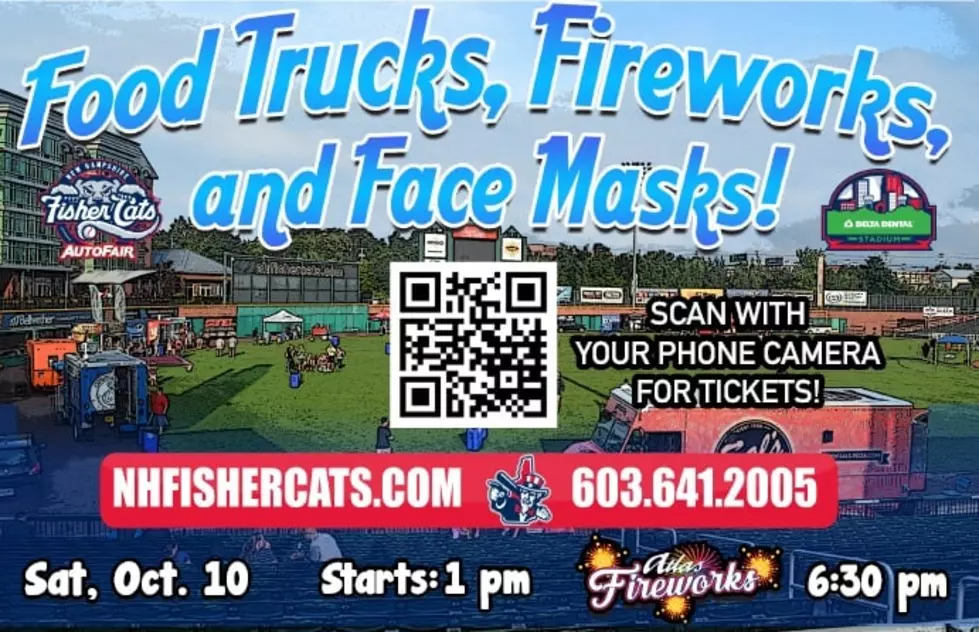 Fisher Cats Food Truck Festival & Fireworks On Saturday
NH Fisher Cats
Don't have plans for Saturday? Love some great food? Want to see fireworks?
Well, then head to Northeast Delta Dental Stadium in Manchester this Saturday for the Fisher Cats Food Truck Festival and Fireworks!
Get ready to try some delicious food from Empanada Dada, Ben & Jerry's,, Jackson Effie Coffee Cabin, Dudley's Fried Dough and The Gyro Spot - Manchester Food Truck:
There will be new safety and social distancing protocols in place for this event.  You will need to wear a mask entering and exiting, but are allowed to take it off as long as you are seated six feet away from other people.
According to NHFishercats.com, you can sit in either the stadium seating or on the field. Blankets are encouraged for sitting, and chairs are not allowed.
There are also safety precautions in place for Fisher Cats Staff. They will all be wearing face masks and must complete a questionaire before coming in to work. Seats and bathrooms will also be frequently disinfected.
Tickets are $10 a piece and can be purchased here. 
LOOK: Here are the best small towns to live in across America