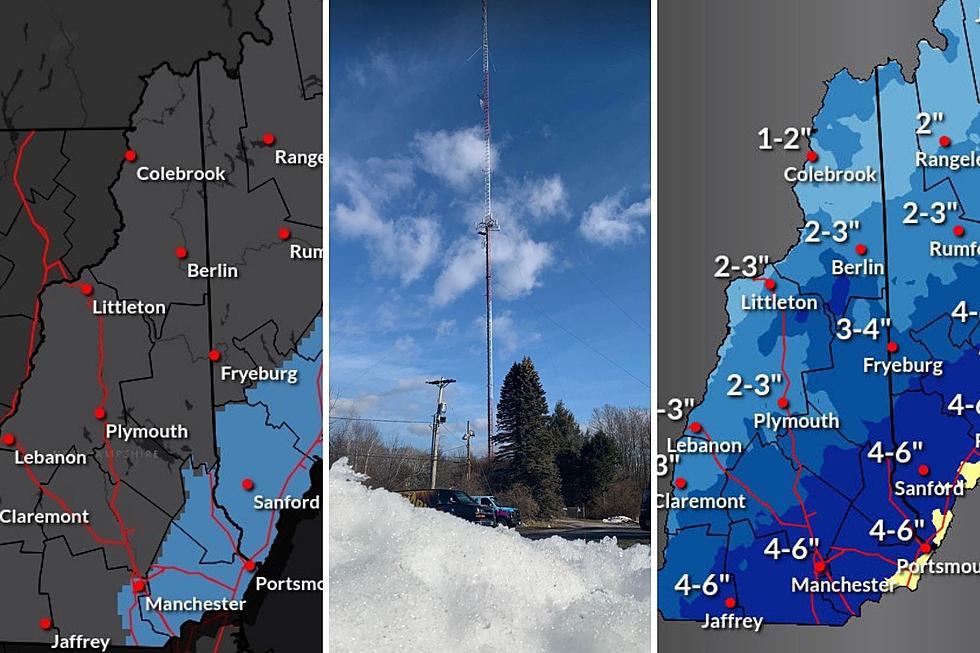 Here Comes The Snow — 4-6″ Expected for Seacoast
Area of a Winter Storm Watch, expected snow totals for 1/7/22 storm (NWS), snow in Dover (Megan Murphy, Townsquare Media)
Friday may be a good day to work from home, as the snow will be at its worst during the morning commute.
"A Winter Storm Watch is in effect for the Seacoast region from Maine to Massachusetts late Thursday night through Friday afternoon as 4-6 inches of dry snow is expected to fall," according to National Weather Service meteorologist Greg Cornwell.
"We're going to have snow overspreading the area late Thursday night and early Friday morning. The greatest amounts should fall along the coastline and decrease as you go inland in towards the mountains," Cornwell told Seacoast Current.
Slightly higher amounts of 6-8 inches could fall in Essex County, according to the National Weather Service in Boston.
Extra Time for the Friday Morning Commute
Cornwell recommends allowing yourself some extra time on Friday morning as the snow will be falling at its hardest during the commute with the potential for nearly an inch an hour.
"You'll want to give yourself plenty of time to get to your destination and consider delaying your departure if you can," Cornwell said
Unlike recent storms, precipitation will stay all snow for the duration of the storm and taper off in the afternoon.
Contact reporter Dan Alexander at Dan.Alexander@townsquaremedia.com or via Twitter @DanAlexanderNH
A Walk Through This Nearly 19,000 Square Foot New Hampshire Home