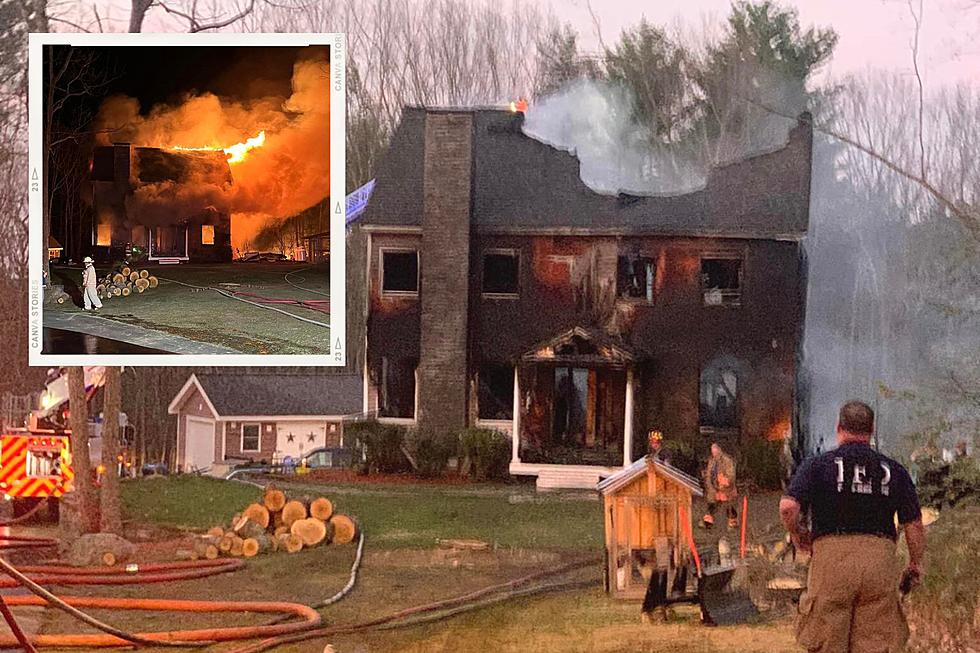 Raymond, New Hampshire, House Heavily Damaged by Fire
Fire at a house on Ann Logan Circle in Raymond 4/15/23 (Fremont NH Fire Rescue Department)
🔴 The fire completely engulfed the house on Ann Logan Circle in Raymond
🔴 The surrounding woods were also burned by the fire
🔴 A home in North Berwick and a detached garage in Plaistow were also damaged by fire
---
An early morning fire left a hole in the roof of a two-story house in Raymond.
All the occupants made it out safely as flames engulfed the home on Ann Logan Circle, according to Fremont, New Hampshire, Fire Rescue Department.
The state Division of Forest and Lands also responded to the fire, which spread into the backyard and surrounding woods.
Raymond Fire Chief Paul Hammond told Seacoast Current the fire is not considered suspicious and state fire investigators will determine a cause. There was plenty of manpower, resources, and water available to battle the three-alarm fire, according to Hammond.
No firefighters were injured.
The Kingston Fire Department also responded to the fire.
Fires in North Berwick and Plaistow
Dry conditions, gusty winds, and low humidity this week combined to create ideal conditions for the fast spread of fires.
A fire in one room of a four-car detached garage on Kingston Road in Plaisow that spread to the attic was quickly brought under control late Thursday afternoon, according to the Plaistow Fire Department.
"This fire was quickly contained, and property damage was limited because of a fast response of trained, equipped, and capable firefighters. Response times and on-duty staffing makes a tremendous difference with our outcomes," the department said.
Fire caused significant damage to a house on Old County Road in North Berwick, leaving it uninhabitable, according to the North Berwick Fire Department.
Donations to the William Hill Firefighters Association to assist the family may be made at any Kennebunk Savings location.
Contact reporter Dan Alexander at Dan.Alexander@townsquaremedia.com or via Twitter @DanAlexanderNH
LOOK: Maine's Most Iconic Lighthouses
For centuries, Maine's iconic lighthouses have been guiding ships and serve as a testament to the state's rich maritime history. These structures, from the charming Nubble Light to the easternmost Quoddy Head Light, still captivate visitors with their picturesque settings and fascinating histories.